Dozens missing after strong quake hits northern Japan
Comments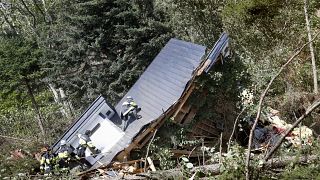 A powerful earthquake paralysed Japan's northern island of Hokkaido on Thursday, killing at least seven people, triggering landslides and knocking out power to its 5.3 million residents.
The death toll from the 6.7-magnitude, pre-dawn quake was likely to rise as rescuers searched houses buried by landslides.
About 33 people were missing and 300 were injured, public broadcaster NHK said. Four people were in cardiopulmonary arrest, a term used before death is officially confirmed.
The quake was the latest in a string of natural disasters to batter Japan after typhoons, flooding and a record-breaking heat wave within the past two months.
Aerial footage showed dozens of landslides exposing barren hillsides near the town of Atsuma in southern Hokkaido, with mounds of red earth and toppled trees piled at the edge of green fields.
The collapsed remains of what appeared to be houses or barns were strewn about.
"It came in four big jerks - boom! boom! boom! boom!" one unidentified woman told NHK. "Before we knew it our house was bent and we couldn't open the door."
Prime Minister Shinzo Abe said 25,000 Self-Defence Force troops would be deployed for rescue operations.
The island, a tourist destination about the size of Austria known for its mountains, lakes and seafood, lost its power when Hokkaido Electric Power Co shut down of all its fossil fuel-fired power plants after the quake as a precaution.
It was the first time since the utility was established in 1951 that had happened.
Almost 12 hours later, power was restored to parts of Sapporo, Hokkaido's capital, and Asahikawa, its second-biggest city.
The government said there was damage to Hokkaido Electric's Tomato-Atsuma plant, which supplies half the island's 2.95 million households. It could take a week to restore power fully to all residents, Industry Minister Hiroshige Seko said.
All trains across the island were halted.
Hokkaido's main airport was closed, at least for the day and debris and water could be seen on the terminal floors.
Kyodo news agency said more than 200 flights and 40,000 passengers would be affected on Thursday alone.
The closure comes just days after Kansai Airport, another major regional hub, in western Japan, was shut by Typhoon Jebi, which killed 11 people and injured hundreds.
The storm, the most powerful to hit Japan in 25 years, stranded thousands of passengers and workers at the airport, whose operator said it would resume some domestic flights on Friday.
In July, torrential rain in west Japan caused flooding that killed more than 200 people and widespread destruction.
That was followed by a heat wave that reached a record 41.1 Celsius and led to the deaths of at least 80 people.