Alex Jones and Marco Rubio in Middle School-style corridor showdown
Comments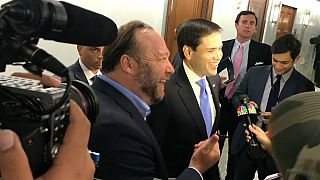 "Marco Rubio the snake, little frat boy here."
_"Don't touch me again, man."
_
"You won't get arrested, I'll take care of it myself."
"Oh, you'll beat me up? Look at him he's so mad. Rubio just threatened to physically take care of me."
No, not a transcript of two Middle-schoolers with major beef, giving it some attitude at their lockers in the school corridor. Two grown men: one is a Florida Senator, the other a prominent talk show host among the alt-right.
Marco Rubio and Alex Jones, ladies and gentlemen. Take a bow guys.