Raw Politics: new movements, Commission candidates and Farage on "being friends with the EU"
Comments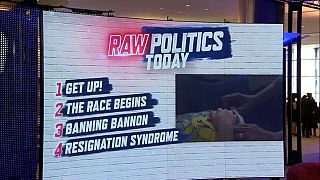 In Wednesday's edition of Raw Politics, Tesa Arcilla and her panel discuss, amongst other topics, the crop of new political movements that have been sprouting up around Europe in recent years and Manfred Weber, a man who wants to be the next European Commission President. 
And there's an interview with arguably Brexit's strongest advocate, Nigel Farage.
Presented by Tesa Arcilla from the Agora studio of the European Parliament in Brussels, Raw Politics is designed to fulfil Euronews' promise to provide "All Voices, All Views, All Welcome". It poses hard-hitting questions on the issues that define and divide Europe through impactful interviews, passionate debates and expertise from our correspondents. Guests will come from all over the political spectrum.