Policeman sent to psychologist after backing anti-corruption campaign
Comments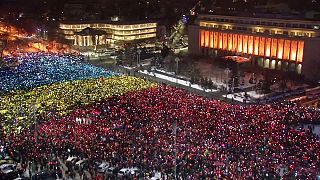 Police chiefs in Romania told one of its cops to see a psychologist after he backed a campaign to stop criminals serving in public office.
Radu Dutu wore an armband under his police uniform to show support for #FaraPenali, a petition that has gathered more than a million signatures to change Romania's constitution to stop convicts working for the state.
Bucharest-based Dutu said on social media that bosses told him to go home for the day after he refused to remove the armband.
Dutu, who said he could be the subject of an internal disciplinary investigation, claimed his action was not political but his right to freedom of expression.
The #FaraPenali anti-corruption campaign is backed by opposition party Save Romania Union and embraced by the people behind the anti-corruption protests that have rocked the country in recent months.
Dutu's Facebook post on Sunday revealing his spat with police bosses has gone viral and been shared more than 5,500 times.