Europe briefing: Five stories to know about today
Comments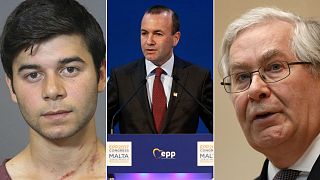 German police 'urgently' seek third suspect in murder that has sparked national protests
Police officers in Germany are "urgently" trying to track down a third suspect in the murder of 35-year-old German-Cuban man Daniel H., who was stabbed to death in the city of Chemnitz on August 26.
An arrest warrant for 22-year-old Iraqi immigrant Farhad Ramazan Ahmad has been issued. Two other suspects, a man from Syria and another from Iraq, remain in custody.
Daniel's death has sparked protests in Germany, where anti-migrant sentiment has been running high. Chemnitz was also host to a mass 'anti-racism' concert on Monday, which attracted around 65,000 people.
German MEP confirms candidacy for European Commission President
"I want to become the @EPP's lead candidate for the 2019 European Elections and be the next President of the European Commission," Manfred Weber announced on Twitter Wednesday.
Weber is a member of the Christian Social Union in Germany and leader of the European People's Party. The incumbent President, Jean-Claude Juncker, is due to step down from the role next year after the European elections.
Theresa May 'to make emergency statement' in Parliament
The British Prime Minister is to deliver an emergency statement to Parliament Wednesday, according to the Times newspaper.
The statement will likely concern national security, although Downing Street are yet to comment on the report.
The announcement comes after a chemical weapons watchdog confirmed Tuesday that experts had linked the Soviet nerve agent Novichok to two poisonings on British soil.
Russia denies involvement.
Former BoE governer hits out at Britain's 'incompetence' ahead of Brexit
Former Bank of England governer Mervyn King has made an "extraordinary intervention" regarding Britain's exit from the EU, Euronews' Vincent McAviney reports. 
The pro-Brexit Lord blasted the UK government and its civil servants as "incompetent" ahead of Brexit preparations, and said talks that medicines could be stockpiled beforehand "beggars belief".
Meanwhile, there has also been speculation about current BoE governer Mark Carney's future:
August was Europe's 'warmest ever'
Temperatures in August were warmer than the 1981-2010 average over most of Europe, according to the Copernicus Climate Change Service.
Above average temperatures were recorded in Portugal, western Spain, central France, Germany, Russia and parts of Poland last month, as well as over the Baltic, western Mediterranean and Black Seas. Below average temperatures endured only in southernmost Italy, Scotland, Ireland, Norway and Iceland.
Parts of Siberia and the Arctic Ocean also saw much higher temperatures than normal for August, along with China and most of south east Asia.
As it happened on Wednesday, September 5
This is how we covered key developments this morning: