Don't mention the Commission! Manfred Weber deflects question on the EU institution he wants to lead
Comments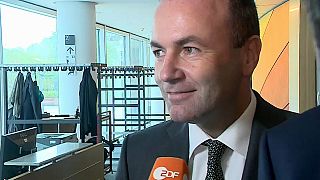 How do you answer a question on the European Commission without mentioning the European Commission? 
Manfred Weber, who wants the top job in the Commission itself, shows us how.
Euronews' Darren McCaffrey asked him whether he thought the Commission, as it is, needs to change and, if so, what's wrong with it now.
Initially reluctant to answer questions to him, the 46-year-old Bavarian conservative eventually told Darren and other reporters gathered he wants to "renew the connection between the people and the EU." He says he wants to change the views of people who see the EU "only at a bureaucratic level, at an elite level" by showing them that "the elected members of the Parliament have a decisive vote about the question of which direction the continent will go."
"I want to practice simply democracy."