August in Europe 'was the warmest on record'
Comments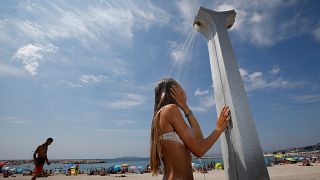 Europe had its warmest August on record — the third month this year that has seen unprecedented temperatures.
That's according to the Copernicus Climate Change Service, who compare data against average temperatures from 1981-2010.
It said the mercury was higher than normal last month in Portugal, Germany, western Spain, central France and parts of Poland.
But temperatures were below average in southernmost Italy, Scotland, Norway, Iceland and parts of Ireland.
Europe also had record levels of heat in April and May this year.
The continent's sizzling summer has sparked droughts, seen wildfires as far north as the Arctic Circle and hit crops hard.
Data shows 12-month average temperatures in Europe have been consistently higher since the turn of the century.
The Copernicus Climate Change Service is a new service managed on behalf of the European Commission.