Pushing the boundaries at London's Design Biennale
Comments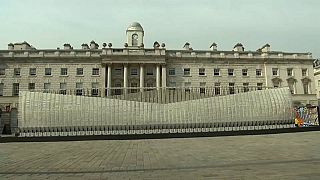 The London Design Biennale is playing host to 40 territories, all wrestling with the theme 'Emotional States'.
Curated by New York's Cooper Hewitt Smithsonian Design Museum, 'Face Values' includes two interactive pieces that explore the scope and limits of what technology can learn about you from your face.
This creation by designer R. Luke DuBois explores the challenges and limits of facial recognition tech.
Visitors sit in front of a screen and are asked to display a specific emotion.
Using technology similar to that deployed by some police forces, the system calculates the individual's age, gender, race and emotional state.
The results are both intrusive and often inaccurate.
Artist Flynn Talbot has created this dazzling version of the Rainbow flag to celebrate Australia's same-sex marriage laws.