Brazil mourns loss of National Museum in fire
Comments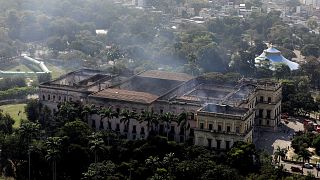 Firefighters combing through the charred remains of Brazil's National Museum have found a skull that may belong to its star exhibit, an 11,500-year-old woman named Luzia, local TV reported on Tuesday.
A fire broke out in the 200-year-old museum on Sunday evening, destroying the vast majority of its massive collection and igniting a nationwide debate over the role of culture and learning in a society grappling with a frail economy and deep austerity measures.
Globo TV reported that firefighters at the site had found a skull that may belong to Luzia, whose remains are the oldest to be found in Brazil. The cranium has been sent to a lab in order to confirm its provenance, the network said.
Neither Rio's fire department nor the Federal University of Rio de Janeiro, which administers the museum, immediately responded to requests for comment.
Discovered in 1975, in the central Brazilian state of Minas Gerais, Luzia was probably 25 when she died, according to the museum's website. She was the star of a 20 million-strong collection that also included Egyptian artifacts, archeological finds and historical memorabilia.
A litany of well-known problems, including the lack of a sprinkler system, are believed to have contributed to Sunday's blaze. O Globo newspaper said on Tuesday that it had first reported on the risk of a fire at the museum 40 years ago.
The museum's pastel-yellow facade was still standing on Tuesday, but a peek inside its giant windows revealed a roofless interior of blackened hallways and charred beams. Local officials said the structure remained vulnerable to collapse.
Some Brazilians see the problems at the museum as a metaphor for the country's broader issues. An increasingly angry electorate will go to the polls in October to pick a new president.
The museum's directors have accused the federal government of years of insufficient funding for one of Latin America's most important historical repositories.
However, Brazil's federal government on Tuesday defended its funding of Rio's federal university, accusing the institution of failing to pass on money to the museum.
In a press conference, Dyogo Oliveira, the president of the state-run development bank BNDES, announced a six and a half miilion euro plan to fund fire prevention mechanisms at national monuments across the country.