Raw Politics: Back to work, Brexit, German crime and is it literally 'Time for a Change'?
Comments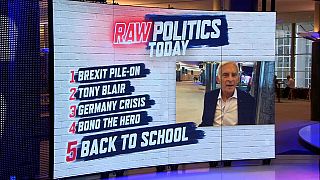 Europe's politicians are back to work in Brussels this Monday with a familiar topic still set to hog the agenda. The B-word. Yes, Brexit. Find the latest opinions put out by the main protagonists in this ongoing saga.
Also making the news are crime statistics in Germany and links that are, rightly or wrongly, being made with immigration.
And in another story you may have spotted over the weekend, there are proposals to literally change time in Europe. Follow our panel discussions on those and other issues.
Presented by Tesa Arcilla from the Agora studio of the European Parliament in Brussels, Raw Politics is designed to fulfil Euronews' promise to provide "All Voices, All Views, All Welcome". It poses hard-hitting questions on the issues that define and divide Europe through impactful interviews, passionate debates and expertise from our correspondents. Guests will come from all over the political spectrum.