Palestinians in Gaza take to boats to protest Israeli blockade
Comments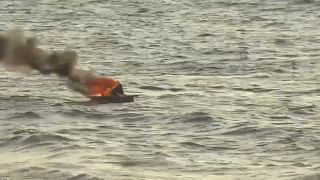 Palestinian protesters in fishing boats were met with Israeli gunfire and tear gas as they sailed toward Israeli waters off the northern Gaza Strip.
The protesters said they were challenging Israel's land and sea blockade on Gaza which has lasted for more than a decade.
The permissible fishing area for Gaza is limited by Israel to between six and nine nautical miles.
Israel says the restrictions are necessary to contain Hamas, the group that took over Gaza by force in 2007.
The protesters advanced towards the Israeli sea border but stopped short and returned to shore after being fired at.
At least one protester was injured in Sunday's protest.