Manhunt underway after West Bank shooting
Comments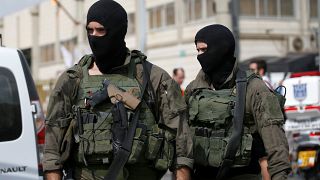 A widespread manhunt is underway in the West Bank after two people were shot and killed at the Barkan Industrial Park on Sunday (October 7). Another person was critically injured.
The suspected assailant worked at the park, which employs both Israelis and Palestinians. Until Sunday's attack it had been seen as a model of coexistence in the often fraught and divided region.
Reports say the gunman - who is thought to be a Palestinian - entered a factory building and shot at two women and a man. The man and one woman died at the scene.
Security footage shows the shooter fleeing, still armed with a rifle. The Israeli Defense Forces said they are investigating how the suspect was able to bring a weapon into the industrial park.
The shooting comes two days after three Palestinians were killed during protests at the border fence between Gaza and Israel. A 12-year-old boy was among the dead.
On Sunday, the Palestinian Islamist group Hamas praised the attack, calling it a "message to young people of the West Bank and Gaza who are under siege".