Israel's public broadcaster apologises for playing music by Wagner
Comments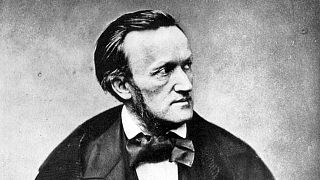 Israel's public broadcaster has apologised for playing the music of the 19th Century anti-Semitic composer Richard Wagner.
Classical radio station Kol HaMusica sparked controversy on Friday when it broadcast the third act of Wagner's opera "Twilight of the gods" (Gotterdammerung), as performed under Jewish conductor Daniel Barenboim at the 1991 Bayreuth Festival.
Wagner, whose operas are hailed as musical masterpieces, was Adolf Hitler's favourite composer, with Nazi followers embracing his anti-Semitic writings and ideology.
While there is no legal ban on playing Wagner's music in Israel, TV and radio stations refrain from doing so due to widespread opposition.
The decision to play the piece sparked several complaints, according to Israeli newspaper Haaretz.
In a statement shared with Euronews, the Israel Broadcasting Corporation (Kan) apologised to listeners, saying the editor "erred in his artistic choice to play the piece".
"The guidelines of the Israel Broadcasting Corporation remain the same as they have been over the years — Wagner's work will not be heard here in the kan Voice of Music. This is done out of understanding the pain that such a hearing will generate among Holocaust survivors among our listeners," it explained.
The corporation said it would hold an "ethical... and professional discussion among the professional bodies within it and will invite the public to express its views" over the issue.
However, not everyone in Israel agrees that Wagner's music shouldn't be played.
Jonathan Livny, head of the Israel Wagner Society, told Haaretz he welcomed the broadcast.
"We do not play the opinions of the composer, but the wonderful music he created," he explained.