Three dead and 14 injured in Somali car bomb attack
Comments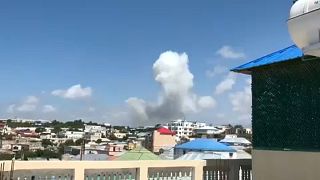 A suicide bomber has attacked a government office in the Somalian capital, resulting in a huge explosion that caused a school opposite to collapse. Officials say the blast in Mogadishu killed three soldiers and injured 14 people including six children.
The explosion also damaged a number of nearby houses and blew the roof off a mosque according to officials. Al-Shabab has been largely driven out of urban areas but still has the ability to launch sporadic terrorist attacks in the capital and elsewhere.
Somalia has been immersed in violence since 1991. Islamist group Al Shabaab is fighting to dislodge a Western-backed government protected by African Union-mandated peacekeepers.