Jobs aren't the main reason young people migrate to Europe | View
Comments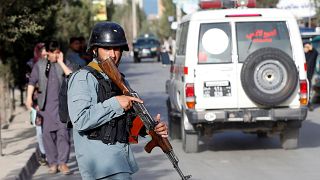 -
Copyright

REUTERS/Omar Sobhani
The opinions expressed in this article are those of the author and do not represent in any way the editorial position of Euronews.
By Beza Tesfaye
"You ask me when and why I decided to leave, but, in fact, I did not have any choice."

Mercy Corps study interviewee
The desperate journey migrants undertake to reach Europe has only become deadlier - even as European governments pour billions into economic development programmes to deter people from attempting it.
New research conducted by my organisation, Mercy Corps, and the think tank Samuel Hall reveals that such programmes - when they are implemented without complementary efforts to improve stability - may do little to address the real reasons people migrate. In fact, they may sometimes even facilitate it.
The results of our study, based on more than 12,000 surveys in Somalia and Afghanistan - two major countries of origin for migrants to Europe - between 2014 and 2017, and in-depth interviews with Somalis and Afghans at home and in Italy and Greece, show that the main driver for migration is not economic, but rather the spectre of violence and insecurity that shapes so many lives in these countries. Simply put, youth who feel less secure, are exposed to violence and are pessimistic about their future are more likely to migrate.
These findings are especially significant now. The death rate among migrants crossing the Mediterranean Sea from North Africa to Europe has hit its highest level since 2015, when more than one million people reached Europe, according to a report by the United Nations this month. In the first seven months of 2018, one out of every 18 people attempting the route died or went missing – more than double last year's rate.
Europe's response to the crisis since 2015 has included the EU Emergency Trust Fund for Africa, which has pledged more than four billion euros for programmes that mitigate poverty, weak economic infrastructure and food crises, which it sees as contributing to conflict, displacement and irregular migration.
Yet our research showed such economic interventions, like education and vocational training, have little or mixed impact on migration patterns.
The study also examined six factors that have been widely proffered as drivers of migration: employment, economic wellbeing and assets, family cohesion, community inclusion, positive outlook and perceived security.
Youth in Afghanistan and Somalia were found to be often unable to migrate due to a lack of resources, rather than a desire to remain in their own countries. As their economic resources increased, their intention to migrate, and their ability to fund it, also rose.
When it came to employment, the results were mixed. In Afghanistan, having a job correlated with a greater intention to migrate, while work kept more youth rooted in Somalia. In short, the links between economic development and migration run counter to the logic that underlies most donor strategies to curb migration.
What the research consistently yielded was the finding that insecurity creates a greater drive to migrate, especially in Somalia. Whether respondents suffered violence directly, including sexual violence, or were aware that it posed a risk, they cited it as a motivator to leave. Positive outcomes are far likelier if likely migrants are able to make this decision with a sense of stability, rather than out of desperation, the study also found.
None of this is to say that development goals should be abandoned. They remain an integral piece in the overall strategy to improve the lives of people in countries of fragility. For example, focusing on skills-building alone may not diminish a person's desire to migrate, but it often improves his or her sense of social and material wellbeing. That is an important consequence on its own.
However, what these findings have shown us is that if policymakers in Europe truly want to improve outcomes for people, they must reconsider how they are investing in youth development and channel funds and efforts into addressing the root causes of fragility and conflict.
"You ask me when and why I decided to leave, but, in fact, I did not have any choice. I did not decide and no one else decided for me. I just had to leave Puntland because there was no other option," one Somali man, aged 24, said in an interview for the study.
Policies and programmes that help young people like him to build better and secure lives in their home country should be part of any donor government's strategy to support stability in fragile places. The priority question for policy makers should not be "how can youth be deterred from migrating?" but rather, "how can aid investments support people to build better and more secure lives wherever they choose to live?".
Beza Tesfaye is a senior researcher at Mercy Corps. Follow her on Twitter at @bezates87.
Opinions expressed in View articles do not reflect those of euronews.