One dead and 18 injured as Russian jet catches fire on landing
Comments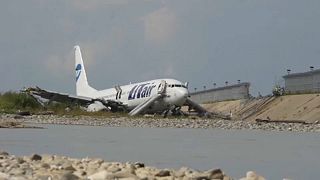 Officials say one person has died and another 18 injured after a passenger plane skidded off a runway and burst into flames in the Russian city of Sochi.
The jet was carrying 164 passengers and six crew when it attempted to land in heavy rain and strong winds on Saturday according to Russian media. It crashed through an airport fence and ended up in a dry riverbed.
Some of the injured people suffered burns and carbon monoxide poisoning.
An airport spokesman said one airport employee suffered a fatal heart attack during the rescue operation.