German city hit by far-right violence braces for rival demonstrations
Comments
By Reuters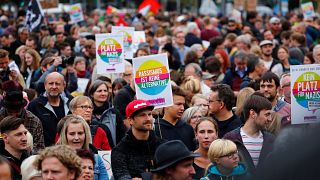 Copyright

REUTERS/Hannibal Hanschke

-
CHEMNITZ, Germany (Reuters) - Supporters and opponents of Chancellor Angela Merkel's liberal immigration policy hold rival demonstrations on Saturday in the city of Chemnitz, where the fatal stabbing of a German man by two migrants sparked violent far-right protests.
More than 1,200 policemen will keep watch over the rallies in the eastern city, where deep divisions over Merkel's 2015 decision to welcome a million asylum-seekers have flared up since the killing of the 35-year-old man six days ago.
Leftist protesters will start a march under the slogan 'Heart instead of Hate' at 1300 GMT in the centre of Chemnitz, which was known as Karl-Marx-Stadt under Communist rule in East Germany as a homage to its industrial past.
Dozens of leftist demonstrators started gathering near a large bust of the father of Communism in the city centre, where only a few days ago far-right demonstrators clashed with police.
Two hours later, supporters of far-right groups, including PEGIDA and Alternative for Germany (AfD), will gather to mourn the man who was stabbed to death.
"Who was the stabbing victim?," asked a woman in her 50s at the leftist demonstration, declining to give her name. "The far-right is exploiting his death by saying: 'A German has been murdered.' But he was an anti-fascist and people outside the city don't know that."
German police have said little about the man and the circumstances surrounding his murder.
Hundreds of far-right activists clashed with police and hounded migrants in the streets of Chemnitz last Sunday after authorities said a Syrian and an Iraqi have been detained as suspects in the fatal stabbing.
Images of skinheads raising their arms for a Hitler salute, chasing dark-skinned people, and wrestling riot police to the ground were a painful reminder for many Germans that not everyone has learned the lessons of the country's Nazi past.
The leaking of the arrest warrant for one of the two suspects to PEGIDA, under surveillance by security agencies, raised concerns that some justice officials in the state of Saxony, where Chemnitz lies, were sympathetic to the far-right.
'People are worried'
Foreign Minister Heiko Maas, whose centre-left Social Democrats (SPD) hold the mayor's office in Chemnitz and helped organise the first march, said on Twitter that Germans had a special duty to stand up against any form of fascism.
"When people are once again roaming our streets with the Hitler salute, our history mandates us to stand up for democracy," he wrote on Saturday.
The influx of more than 1.6 million people seeking asylum in the last four years, mainly Muslims from Syria, Iraq and Afghanistan, has already changed Germany's social and political landscapes.
The AfD, which says Islam is incompatible with the German constitution, entered the national parliament for first time in an election last year, sealing third place after stealing voters from both Merkel's conservatives and the SPD.
After the fatal stabbing in Chemnitz, its leaders said the violent riots that followed were understandable.
Merkel, who on Friday wrapped up a three-day visit to Africa, has not yet commented on the events in the city, near the Czech border.
"People are worried," said teenager Jona Marschler. "I don't think things will calm down anytime soon."
(Writing by Joseph Nasr. Editing by Helen Popper)