Watch: Whale washed up on beach returned to the ocean
Comments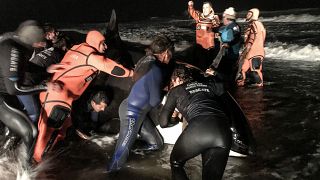 A stranded orca was rescued and placed back into the water along Argentina's coastline after the tide took it ashore at the weekend.
The mission, captured on video, was carried out by members of the Argentine navy and the National Marine World Foundation, and some volunteers. 
Crowds of people worked for almost 20 hours before successfully reintroducing the 4,000 kg animal into the sea. 
 The rescuers said the task was "difficult".
Officials were told that another beached whale along the same stretch of sand was rescued on Sunday.
The same group of rescuers were called upon to deal with the task and also released the whale back into the sea successfully.
The whales made it onto the shores of popular beach towns including Mar de Ajo, Mar del Plata, and Villa Gesell.