Watch: Whale stuns onlookers as it leaps next to boat
Comments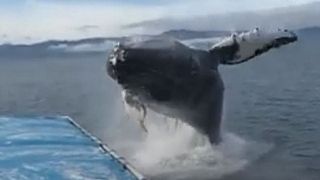 A whale in Alaska soaked surprised onlookers while whale-watching.
With humpbacked whales weighing up to 30 tonnes, the animal created quite a splash as it leapt out of the water next to the spectator's small boat.
There are an estimated 80,000 humpbacked whales in the oceans, having made a comeback due to conservation efforts.