Mystery behind the death of British tourists in Egypt persists
Comments
By Sabine Sans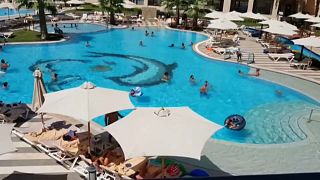 After the unexplained death of two guests in a hotel in Hurghada, Egypt, the daughter of the deceased couple remains suspicious. Tour operator Thomas Cook are expanding their own investigation, deploying experts to test the water, food and air conditioning, the results of which are expected in 10 days.
According to information provided by an Egyptian prosecutor, technical equipment operating in the couple's hotel room had been flawless, yet their daughter Kelly Ormerod is unconvinced.
"There was something in that room that killed her that night when they returned to this room," she said. "I do not know if they inhaled something that poisoned them, I can only express my opinion, but in this room something happened that killed my parents."
Increasing cases of illness
According to a statement by the Egyptian Ministry of Tourism, 69-year-old Briton John Cooper died of a sudden cardiac arrest and his 63-year-old wife Susan suffered "circulatory collapse and respiratory failure".
Meanwhile, many of the 300 or so Thomas Cook holidaymakers who were staying in the hotel at the time had complained of vomiting, stomach cramps and diarrohea, prompting Thomas Cook to remove as a "precautionary measure".
But Aqua Magic has rejected all allegations of being responsible for reported incidents of sickness, and has called suspicions about food poisoning "premature speculation".
The Egyptian prosecution is also waiting for a report from the medical examiner which should identify the exact cause of the couple's death.
Speculation about a cover-up
According to a British newspaper report, Thomas Cook found no signs of carbon monoxide poisoning. In the same report, travel expert Nick Harris of Simpson Millar suggested carbon monoxide poisoning, food poisoning, or water poisoning could have played a part.
However, hygiene complaints concerning Aqua Magic have been raised in the past, and if they have merit, Thomas Cook would be anxious to protect their reputation, Harris claimed.
"If the suspicion is true, it would be very bad for business, after two children died during their vacation in 2006, on a tour operator's trip, to carbon monoxide," he said.