Pope Francis visits Ireland amid sex abuse scandals
Comments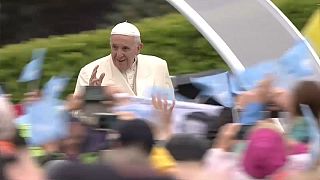 Pope Francis flew into Ireland on Sunday for a visit to the Knock holy shrine in County Mayo.
The shrine is revered after an apparition of Mary, the mother of Jesus Christ, was believed to have been seen in 1879.
The Marian shrine is also close to Tuam, the site of a mass grave of hundreds of babies who died over the years at a home run by the Catholic church.
Survivors of Ireland's "mother and baby homes" - where children were exiled for the shame of having been born to unwed mothers - are planning a protest at Tuam later on Sunday.
But Francis has no plans to visit the grave site during his two-day trip to Ireland.
Ireland is growing more secular and the abuse scandals have greatly damaged the church's reputation there.
The Pope has begged for forgiveness for the sex abuse scandals that have rocked the Catholic church worldwide and later met with eight Irish abuse victims to beg for forgiveness.
Not only have many of its priests abused its followers, the Catholic church has tried to cover up the abuse in the United States.
Meanwhile a former top Vatican official has accused Pope Francis of having known of allegations of sex abuse by a prominent U.S. cardinal for five years before accepting his resignation last month and has called on the pontiff to resign.
In a detailed 11-page statement given to conservative Roman Catholic media outlets during the Pope's visit to Ireland, Archbishop Carlo Maria Vigano also accused a long list of current and past Vatican officials and U.S. Church officials of covering up the McCarrick case.