What impact will the UK's 'no deal' Brexit papers have? | euronews answers
Comments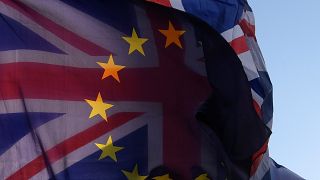 There has been a storm of reaction after the British government published details about the consequences of a "no-deal" Brexit.
Brexit Secretary Dominic Raab said there would be risks but opportunities as the first batch of preparation documents was published. They cover a wide range of sectors from health and medicines to banking and trade.
Should negotiations between the UK and the EU fail to produce an agreement, the government says trade with the bloc will go back to World Trade Organization (WTO) terms.
How would a "no deal" Brexit affect businesses and individuals in the UK?
The government says there would be "immediate changes" to procedures for businesses trading with the EU — and the details make it clear they involve more bureaucracy. The papers reveal that UK companies exporting and importing to and from the bloc face a mass of new red tape — potentially devastating for smaller firms.
Trade under "third country" status would mean customs declarations, tariffs and upfront VAT payments, and higher costs. Some firms may need export licences which could bring delays, or to employ customs brokers.
In many areas the government says the UK would continue to follow EU regulations, but firms would have to deal with new regulatory regimes which would need to be set up, for instance for medicines. Pharmaceutical firms are advised to stockpile six weeks' supplies. New certification is needed in farming, leading to warnings that trade in organic food may effectively be suspended.
Dominic Raab dismissed fears of food shortages, although the retail industry says tariffs would increase costs and make price rises inevitable. The UK road haulage industry says that with no transition deal, there will be very serious disruption to supply chains — affecting businesses and consumers.
Individuals could see a rise in the cost of card payments to the EU, as rules banning what used to be described as "rip-off" surcharges would no longer apply. Britons living in EU countries may not be able to draw UK pensions, as British financial services would no longer be part of the EU's system.
The impact in Europe — deals to deal with a "no deal"?
The documents say many times that in the event of a breakdown in talks and failure to reach a deal, the government would keep talking to the EU to try to resolve issues individually.
Bu committing itself to follow EU regulations, the UK invites the European Union to reciprocate — but it is far from certain that the bloc would do so. The EU's own no-deal notices make it clear that UK authorisations would no longer be accepted. Also, the UK would presumably be walking away without paying its €45 billion divorce bill — which arguably would hardly encourage cooperation.
There are fears that ports like Calais in northern France would become blocked, as new customs controls and other checks were brought in on UK exports.
Among EU countries, Ireland stands to suffer most from a no-deal Brexit. The International Monetary Fund (IMF) has warned that almost 4% of its GDP could be wiped out, with economic growth across the bloc falling by up to 1.5% by 2030.
Almost by definition, the UK's no-deal preparations offer no solutions for Northern Ireland and the border with the Republic — a major stumbling block in the Brexit talks. Ongoing discussions with the EU Commission and the Irish government are envisaged.
What impact might the government's papers have on Brexit talks?
Some commentators argue that the preparation documents weaken the UK's government's negotiating position at a decisive stage — an EU summit in October is seen as a deadline for an agreement — by admitting that whatever happens, the UK will follow EU standards.
The UK is set to leave the EU in seven months, so the limited time available for those affected to respond to the advice is another factor which could increase the pressure on Theresa May's government.
For opponents of Brexit, the impact assessments support their arguments that a "no-deal" scenario would be a disaster. For some Brexiteers, they may be sensible planning which sends a message to Brussels that the UK is ready to leave the EU without a deal.
EU officials have played down the significance of the advice, pointing out that Brexit in whatever form will bring disruption and the consequences described by the UK's notices are the logical effect of leaving the bloc, its single market and customs union.