Australia's new anti-immigrant leader
Comments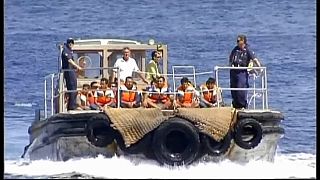 Australia's new prime minister Scott Morrison has held three ministerial posts - but it's his time as minister of immigration and border protection that he'll be remembered for.
In 2013 he began the "Sovereign Frontiers" operation. Boat people were routinely turned back to sea and asylum-seekers driven to remote Pacific detention centres on Manus Island in Papua New Guinea and Nauru.
A situation illustrated by this animated documentary from 99.media:
And in a sign that the government meant business it tasked the navy with patrolling Australia's coastline.
Refugees who did manage to slip through the cracks and reach Australia suffered the same fate.
This policy brought down the number of arrivals but it divided public opinion. It tarnished the international reputation of Australia. and Human rights organizations condemned it.
Amnesty International described the detention centres as open prisons.
Some have questioned how Morrison, who is a committed Christian, can square his actions with his beliefs. But he's said that the migrants and refugees are preyed on by people smuggling gangs and that he wants to stop people risking their safety by taking to boats that are often unseaworthy.
But since 1996 Australia has steadily tightened its immigration policy, whichever party has been in power and he is not alone in his hardline attitude.
And now this Australian policy of zero tolerance has gained a new fan - far-right Italian Interior Minister Matteo Salvini.
He has said he wants Italy to pursue the same policy.