US warns Russia not to meddle in mid-term elections
Comments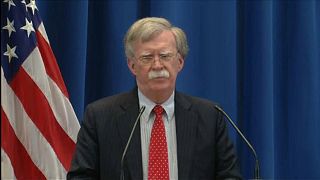 U.S. President Donald Trump's national security adviser John Bolton said on Thursday he has warned Moscow against meddling in the U.S. midterm elections in November during talks with the head of Russia's National Security Council.
Bolton said he had also raised with Nikolai Patrushev the issue of tightening economic sanctions against Iran and said they had discussed a phased withdrawal of Iran's presence in Syria, but gave no details.
The United States has already imposed economic sanctions against Russia over its alleged meddling in the 2016 U.S. presidential election. Moscow denies the allegations.
Bolton said differences over the alleged meddling had prevented the two sides from issuing a joint final statement after the first high-level meeting of its kind since Trump met President Vladimir Putin in Helsinki in July.
In answer to a question, Bolton said that he had not raised the statement by Microsoft Corp on Monday that hackers linked to Russia's government had sought to launch cyber attacks on U.S. political groups. He noted Microsoft was not a U.S. governmental institution.