Spain's footballers threaten to strike over US match
Comments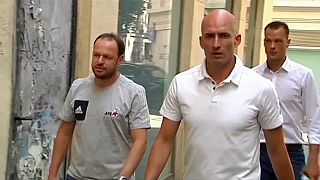 The Spanish Players' Association has said it won't rule out a strike over plans to play a La Liga match in the United States.
It's asking the Spanish League to abandon the match and claims that strike action may not be out of the question.
La Liga officials signed a 15-year deal to promote their brand in North America - including staging a top-division match in the US.
But the players' union say they were not consulted over the proposals and met on Wednesday in Madrid to discuss their concerns.
Real Madrid captain Sergio Ramos and his Spain team-mate Sergio Busquets were among those players in attendance, along with Atletico Madrid pair Koke and Juanfran.
Players Association President David Aganzo said: "I think that at the beginning a decision like this that affects footballers, referees and supporters, to take a decision like this unilaterally shows a complete lack of respect. We footballers have grown tired of this."
The players also have grievances about late kick-offs to regular season matches and over matches played on Friday and Monday evenings, which, they claim are staged at those times to attract viewers in different time zones outside of Spain.