Paris knife attack: "someone with a psychiatric problem"
Comments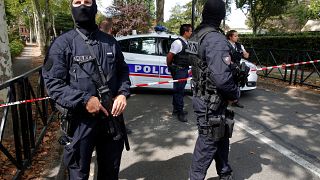 A knifeman killed his mother and sister and seriously wounded a third person in the Paris suburb of Trappes,
The young man, who killed his victims out in the street before taking refuge in a house, was later shot dead by police when he left that house and ran towards them in a threatening way.
The suburb is an underprivileged town situated in an overall wealthy area west of Paris and Versailles.
Dozens of radicalised youths from the town of about 30,000 habitants have left for Syria according to Reuters.
French Interior Minister Gérard Collomb says, "Today's case is with someone with a serious psychiatric problem... yes, he was put on the (FSPRT) register and known for propaganda of terrorism but overall he's rather a deranged person and not an engaged activist, and not someone who would be able to answer to orders from terror organisations, namely Daesh".
Earlier, the so called Islamic State claimed responsibility but gave no evidence to support the claim. Counter-terrorism officials have yet to be asked to join the investigation according to a judicial source.