Novak Djokovic: Confident ahead of the U.S. Open tennis tournament
Comments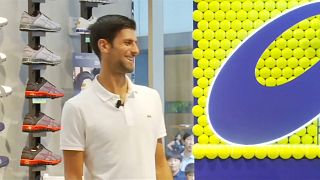 In New York, World Number 6 Novak Djokovic says he's confident ahead of the U.S. Open tennis tournament next week.
It's after collecting a fourth Wimbledon title and completing a sweep of Masters series events over the last month.
Novak Djokovic says, "If I had power to turn back the time, I wouldn't change anything. It's absolutely, everything has happened for a reason and I have learned, you know, lessons and things about me and deeper levels. And I would never change anything. Actually the Wimbeldon win and the Cincinnati win now are much sweeter and more special because of the journey I have been through."
He defeated Roger Federer on Sunday in the Cincinnati Masters final, becoming the first player to complete a sweep of Masters series tournaments.