Which countries are driving Europe's record measles outbreak?
Comments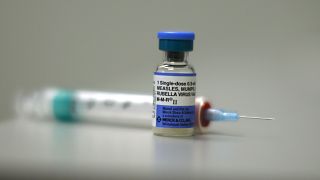 Outbreaks in France, Serbia, Ukraine and Greece helped put measles cases at record-breaking levels in Europe, official data reveals.
The World Health Organization (WHO) says there were 37 deaths and over 41,000 infections in the first six months of this year — more than any other 12-month period in the past decade.
WHO's Mark Muscat told Euronews' Good Morning Europe show the disease 'spreads like wildfire' if children are not given the MMR vaccine.
Serbia and Ukraine saw the biggest outbreaks over the last 12 months — both had more than 600 cases per one million of population.
Ukraine had more cases in June 2018 than the whole of last year. Serbia had seven times more incidents in the first half of this year than did across all of 2017.
They account for 22 of the 37 deaths in Europe from the disease in the six months to the end of June.
France, one of the most vaccine-sceptic countries in Europe, had 2,579 cases from January-June this year, compared with 519 in 2017.
Cases of measles in Greece, meanwhile, are on course to quadruple, compared with last year.
Italy, which this month rowed back on moves to make ten vaccines mandatory for children, is set to have less cases this year than last if current trends continue.
Romania had more than 7,000 cases last year but just 616 in the first half of 2018.