Why are so many Italians against vaccines?
Comments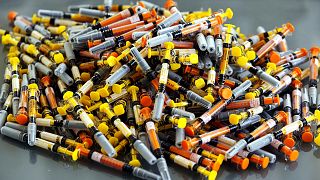 Italy's populist coalition has been criticised for rowing back on a law that made 10 vaccines compulsory for children.
It suspended a requirement for parents to prove their children were vaccinated before starting nursery or pre-school.
Critics say it will take the country back to the Middle Ages.
But what do people on the other side of the argument think and why does Italy have a growing anti-vaccine movement?
They prefer the label 'pro-choice' to 'anti-vaccine'
Last year, Italy's previous government brought in a new law that required parents to inoculate their children against 10 diseases before they would be allowed to enroll at school.
It is this obligation that appears to have annoyed some of the anti-vaccine movement in the country.
Nadia Gatti, president of CONDAV, Italy's national centre for people damaged by vaccines, told Euronews' Lillo Montalto the association was pro-choice rather than anti-vaccine.
"We believe people should have the freedom to choose whether to vaccinate their children.
"It is important not to force parents who are afraid of them — for whatever reason, scientifically-valid or not — to do them at all costs.
"If the state says there is an emergency and we must have one more vaccination, I am fine with it as long as it acknowledges the small possibility of having side effects and provides assistance to those parents who have to face that situation.
"To be told that there are no complications, or lie about the fact that they are 100% safe, is like killing these children twice.
"Measles? I'm okay with having a vaccine. Let's just not have all 10 together at the same time, or nine of them at the same time. I am fine if the state puts four to five compulsory vaccination but leave the others up to the parents' choice."
They have less trust in institutions
It's a trend that is seemingly more prominent than ever: a mistrust in the 'establishment' and its institutions, from Trump's attacks on the 'fake news' media in the US to dismissals of expert opinion in the run-up to the Brexit referendum.
And Italy is not immune.
"You have really widespread scepticism in Italy that translates into this sense you are powerless and there is nothing you can do to improve your own position," Daniele Albertazzi, an expert on Italian politics from the University of Birmingham told Euronews earlier this year.
"This fuels anti-elite, anti-politician rhetoric … League, together with the Five Star Movement, are very good at fuelling this sense of desperation and the feeling that the country's political institutions are working against the interests of the people."
This scepticism has spread to doctors and scientists in Italy and is part of a global trend of distrust in mediators, according to Andrea Grignolio, who teaches history of medicine and bioethics at La Sapienza University of Rome.
They are influenced by unfiltered media
"It is important to underline how the use of new media — which uses a horizontal and filter-free communication — to obtain information on vaccinations is increasingly widespread," said Aurea Oradini, an academic who has studied Italy's inoculation scepticism.
"The internet and social media play an important role in the dissemination of false news and unnecessary alarmism on the safety of vaccinations.
"In fact by being informed on the internet parents can convince themselves, for example, that the vaccines cause autism and consequently choose not to vaccinate their children to avoid unwanted side effects."
Oradini, a board member of the Order of Physicians and Surgeons in Florence, said a legal case in Rimini six years ago has proved to be crucial.
Judges in the north-eastern city awarded damages to the family of a young boy with autism on the grounds his condition had most likely been caused by the MMR vaccination. The ruling was overturned on appeal three years later.
"This certainly represented a fundamental breaking point and inflicted a blow to trust in vaccinations in Italy," added Oradini.
Andrea Grignolio, in his book Vaccines: Are they Worth a Shot?, quoted a 2014 analysis by Censis that claimed 7.8% of parents decided not to vaccinate their child on the basis of information found on the internet.
They are still influenced by a discredited study
It was published two decades ago but it is still having an influence, it's been claimed.
A 1998 study by Andrew Wakefield in The Lancet claimed there was a link between the measles, mumps and rubella (MMR) vaccine and autism.
But his study was debunked and found to be fraudulent and he was struck off the UK medical register.
"But this idea of the association between autism and the MMR vaccine spread in many European countries and also in Italy, where some people still believe in this correlation," said Oradini.
They have been given political legitimacy
Heidi Larson, director of the Vaccine Confidence Project, told Euronews hesitancy over inoculations in Italy had been brewing for some time.
She said it only hit the political agenda when Italy had an outbreak of measles last year, which saw more than 5,000 cases and four deaths.
Experts say Italy's immunisation rate against measles — it was 85% of children in 2016 — is too low to contain the disease among the rest of the country.
The World Health Organization says it should be at 95% or above to protect the wider population from an outbreak.
The onset of measles prompted the government to make it mandatory for children to have 10 vaccinations before they could be enrolled at a state school.
"This led to a reaction and tensions between those feeling the mandates are needed — such as teachers — and some dissenting parents who want to have the choice."
Larson said politicians aligned themselves to either camp in the run up to Italy's March general election with the eventual ruling coalition — consisting of populist parties League and Five Star Movement (M5S) — backing the anti-vaccination electorate.
Beppe Grillo has said vaccinations "play a vital role in eradicating illness" but bring with them "a risk associated with side-effects".
Italian deputy prime minister, Matteo Salvini, leader of League, has claimed compulsory vaccination is "useless" and "dangerous".
"The debate about the law on mandatory vaccination in Italy has quickly grown political with the anti-establishment Five Star Movement heavily-criticised for their part in raising doubts over the efficacy of vaccinations," said Oradini.
"Its leader, Beppe Grillo, has also been criticised for the party's role in propelling the anti-vaccine movement and on his blog he has several times referred to the supposed side-effects of vaccines."
They believe it's all for the benefit of pharmaceuticals
Grillo has said the introduction of mandatory vaccination represented a gift for multinational pharmaceutical firms.
"Some of the parents of anti-vax associations believe that the government issued a mandatory law because it has an agreement with pharmaceutical companies and there is a conflict of interest," Oradini told Euronews.
"They believe that the law with 10 compulsory vaccinations was issued because there was economic interests behind it."
Anti-vaccination campaigners also argue the lack of a uniform inoculation calendar — the time in a child's life when they are given certain jabs — across Europe or elsewhere is evidence that no single schedule is better than another.
They cite this in claiming the 10 mandatory vaccinations are too much and that Italy should return to having just four compulsory inoculations.
"That's why in my opinion we should make an effort to try to establish only one European calendar, which can be used in every European country, to avoid these kind of thoughts," added Oradini.
Your view | What do you think? Why are Italians so sceptical towards vaccines? Let me know: chris.harris@euronews.com