Rencontres d'Arles: French locals, migrants pose for artist's 'hope story'
Comments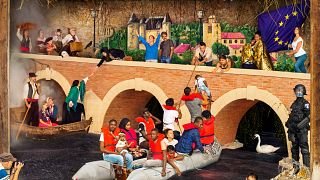 Copyright

Patrick Willocq
Rencontres d'Arles is one of the biggest photography events in Europe, taking place in Arles in the south of France. Around 125,000 people visit the festival from July through September each year. Some 50 artists exhibit their work in the different venues of the ancient Roman town.
Our editor talked to these renowned photographers, who showed us around their exhibitions, explaining their award-winning projects that make a difference in the world of photography.
This edition focuses on Patrick Willocq's work. His project 'My story is a story of hope' is displayed at Fondation Manuel-Rivera Ortiz.
French fine art photographer Patrick Willocq photographed 41 French people and 23 asylum seekers in a French village. He transformed real people into actors to tell the story of asylum seekers "parachuted" into the local community. At the exhibition, we spotted one of the subjects who explained how she became involved. Willocq himself explained the idea behind the project and how he brought it to fruition.