Arles: Austrian photographer tours fake towns around the world
Comments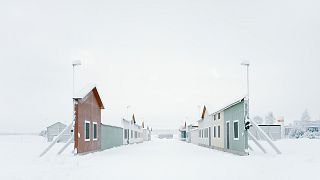 -
Copyright

Gregor Sailer
Austrian photographer Gregor Sailer finds fake towns around the world. These are so-called "Potemkin villages" — any construction built solely to deceive others into thinking that a situation is better or different than it really is. His work is being featured at Rencontres d'Arles.
Rencontres d'Arles is one of the biggest photography events in Europe, taking place in Arles in the south of France. Around 125,000 people visit the festival from July through September each year.
Our editor talked to these renowned photographers, who showed us around their exhibitions, explaining their award-winning projects that make a difference in the world of photography.
Sailer has visited European city replicas in China and spotted a fake elderly woman and a cat in the fake windows of wallpaper-decorated house fronts of Suzdal city before the visit of Russian President Vladimir Putin.
Sailer takes his photographs with an analogue camera. In the focus is usually what seems to be an ordinary town. The window is open, the light is on, the streets might only be empty because of bad weather. It is hard to imagine that some of these buildings were never inhabited and only function as a venue for military training.
Watch our video interview with the photographer to learn more about this project.