Italy lets in all child migrants from coastguard ship
Comments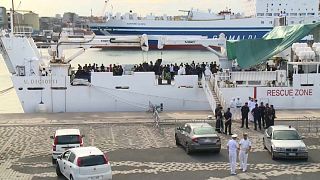 Italy's prime minister has allowed all child migrants on the coastguard ship that docked in the port of Catania on Monday into Italy.
The legal agency in Sicily responsible for children's welfare had made the request.
It's a climbdown by the anti-immigrant government in Rome which previously said none of the 177 migrants would be allowed to set foot on Italian soil.
On Facebook, Prime Minister Giuseppe Conte complained that no EU state had offered to take the migrants in. The European Commission said it was still in negotiations with EU states to try to resolve the stalemate.
A small group at the port held up an anti-government protest. Their banners read: "Lets protect people, not frontiers" and "Keep Being Human".
Interor Minister Matteo Salvini has repeatedly said Italy "will no longer be Europe's refugee camp"
Meanwhile, adult migrants remain on board the ship that rescued them from the Mediterranean, alive and physically safe, but still stateless and homeless.