Supercar lost in France is found in Poland by social media
Comments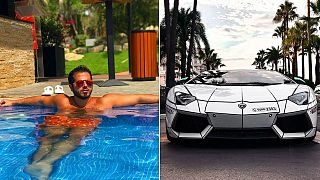 An Emirati millionaire has recovered his rare Lamborghini with the help of social media after it was stolen in France by a fake car company.
Social media influencer Abdullah Alfahim had agreed to pay a car shipping company to transport his Lamborghini Aventador LP760-2 – one of only five made by motor vehicle firm Oakley Design – from Cannes to London after they contacted him on Instagram.
The Dubai-based 30-year-old had posted to his 72,000 followers that he was taking his €500,000 supercar to Europe when the firm reached out to him, but their account was later found to be fake.
"The so-called company picked up my car from the Intercontinental Hotel in Cannes where I was staying," Alfahim told the Khaleej Times. "A day before I flew to London, the man called me and said the Lamborghini will be at the hotel in London in one hour. He blocked my number after that and I never heard from him again."
When Alfahim landed in the British capital to retrieve his prized possession, neither the car nor its carrier was anywhere to be found and the shipping company was unreachable.
Realising it had been stolen, Alfahim promptly sought assistance from Interpol, the European Police Office and the UAE's London embassy, and shared his dismay on social media. His posts went viral, and the vehicle was discovered on a Warsaw street by a Polish police officer.
A Polish citizen suspected of stealing the car was arrested.
"He had apparently shipped the supercar from France to Italy to Poland. He was planning to continue the journey to Russia and Ukraine, but thanks to the Interpol, Polish police, and embassy, he was stopped," Alfahim told the Khaleej Times.
The vehicle is currently being kept at the UAE embassy in Poland, where it awaits its owner's return.