Watch: Century-old throne refurbished ahead of Japanese enthronement
Comments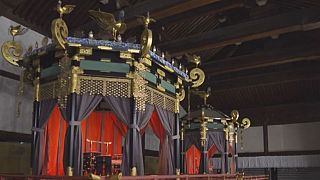 Work has begun on the renovation of the Japanese Imperial Throne in Kyoto.
Refurbishment of the 106-year-old throne is taking place ahead of the enthronement of Crown Prince Naruhito as Emperor of Japan, which is due to take place on October 22 in Tokyo.
The 6.5-metre high throne consists of around 1,500 parts which will be dissembled, checked and renovated before being transported to Tokyo.
The throne was originally made for Emperor Taisho in 1912. The throne was also used by Emperor Showa and Emperor Akihito.
Emperor Akihito announced that he would abdicate from the throne in December 2017 due to failing health.
His abduction was the first by a Japanese monarch in over two centuries.
Emperor Akihito made his last official appearance as monarch on August 15 at an annual ceremony marking the Japanese surrender in World War II.
The emperor expressed his "deep remorse" over the conflict and hoped that "the ravages of war will never be repeated".