Greek prime minister likens the country's bailout to Homer's Odyssey
Comments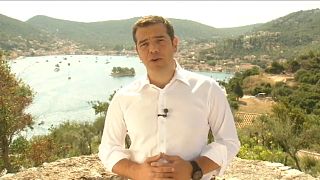 The Greek Prime Minister Alexis Tsipras picked the symbolic island of Ithaca for a TV address to the nation in which he hailed a brighter future after the country exited the years-long bailout programme. He alluded to the legendary author Homer as he talked of a new beginning.
"Since 2010, Greece has undergone a modern Odyssey," Tspras told the country. "Things happened in five years that were unprecedented for a country in peacetime. Today is a day of deliverance, but also the beginning of a new era. And we will not commit the error of hubris of ignoring the teachings of bailout-era Greece."
Tsipras was greeted warmly in Ithaca, but many are unhappy at the cost paid by Greece for the bailout. But he stressed the austerity was needed to get the country back on its feet.
"Now we have reached our destination, we have the strength to build our country the way it deserves to be. We will do it with prudence and responsibility so as never to return to the Greece of deficits and bankruptcy. Because Ithaca is just the beginning of a journey.
"Our country is regaining its right to define its own fortunes and future," he added. "Like a normal European country, without having policies forced on it by foreign officials, with no more blackmail, no more sacrifices for our people."
But Greece still remains shackled to the austerity demands of its former creditors.
And even though it has little fear of new calls for cutbacks from abroad, its hard-won fiscal freedom still carries a high price.
Though the country will no longer have to pass regular checks from creditors to get the money it needs to avoid bankruptcy, it cannot return to the old lax ways that put it in a mess in the first place