Afghanistan: Multiple rockets hit Kabul diplomatic area, clashes ongoing
Comments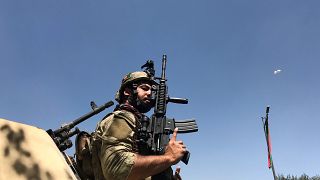 -
Several rockets have hit near the diplomatic area of the Afghan capital, Kabul, on Tuesday morning, according to the government. 
Fighting had broken out between security forces and militants in the city's old quarter, according to AFP news agency citing Afghan officials.
President Ashraf Ghani was giving a speech to mark the beginning of the Eid al-Adha holiday in the area when the attack took place.
It came just days after Ghani offered the Taliban a three-month ceasefire, which the group rejected and said they would continue with attacks.
Military helicopters were firing above the Eidgah Mosque in Reka Khana district, where smoke was rising as police and the interior ministry said clashes were underway, amid a heavy security presence near the Kabul Stadium, according to AFP.
"This morning a group of terrorists took over a building in Reka Khana and fired several rockets towards Kabul," interior ministry spokesman Najib Danish told the news agency.
"Two people have been wounded. Security forces are fighting the terrorists."
The attack occurred in the wake of Monday's ambush by Taliban fighters on three buses carrying around 200 passengers making trips for Eid.
As many as 160 of them were later released, while at least 20 were still captive, according to Reuters.
In June, the Taliban observed a three-day ceasefire over Eid, which raised hopes for talks with the government.
This week two Taliban commanders said their leader rejected Ghani's Sunday offer of a three-month ceasefire, said Reuters, on the grounds that it would only serve to help the American-led mission in the country.