100 days of Sentsov's hunger strike: 'Don't write to me any more to say that freedom is near'
Comments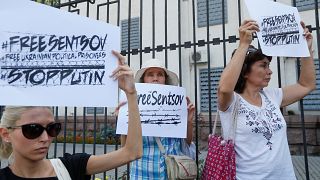 The supporters of Oleg Sentsov and human rights groups are marking 100 days of his hunger strike with protests near the Russian Embassies in London, Stockholm, Kyiv, Lviv, Copenhagen and elsewhere. The events, organized by PEN international, are scheduled to be held at 11am local time in each city.
Ukrainian filmmaker Sentsov started a hunger strike on 14 May in a prison in Siberia to campaign for the release of 64 other Ukrainian prisoners held in Russia and annexed Crimea.
Sentsov's cousin Natalia Kaplan has explained to Euronews' Natalia Liubchenkova how he's coping in the prison's hospital and why it is important for the public to keep the topic of political convicts alive.
Kaplan last visited Sentsov in prison more than a month ago and, even then, the consequences of the hunger strike were very visible.
"It felt like we hadn't seen each other not for three years, but 15. He'd gotten really old, and really thin. His look had changed."
The last letter she received from her cousin at the beginning of August described his health as having deteriorated much further. Sentsov has lost 30 kilograms and suffers heartache, a slow heartbeat and the initial stages of anaemia.
Russia's Federal Penitentiary Service for the Yamalo-Nenets District, where Sentsov is imprisoned, has denied claims that his health has severely deteriorated. "Our examination did not establish a deteriorating health condition ... the state of health of Sentsov is judged to be satisfactory," the latest published report read.
The Kremlin has rejected Sentsov's mother's request for a pardon and said he should request clemency directly himself.
Since the beginning of the hunger strike, a number of world leaders, politicians, human rights groups and activists have attached themselves to Sentsov's cause. The main objective has been to secure the release of prisoners, but no visible progress has yet been achieved.
Sentsov was sentenced in Russia to 20 years in a penal colony for "plotting acts of terrorism", a conviction widely considered political. The European Union stated that "Oleg Sentsov and Oleksandr Kolchenko, who was convicted in the same case to 10 years in prison, and many others "were detained and sentenced in breach of international law".