Watch: Eyebrows raised as Putin dances with Austrian foreign minister
Comments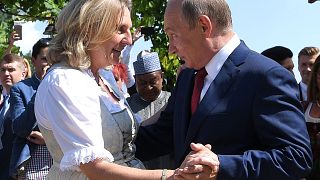 Russian President Vladimir Putin danced arm-in-arm with Austrian Foreign Minister Karin Kneissl at her wedding Saturday.
Kneissl's decision to invite and later dance with the Russian leader proved controversial, with critics claiming that the move undermined the European Union's foreign policy on Russia, as well as damaging Austria's neutrality stance.
Ukraine MP Hanna Hopko condemned Kneissl's actions on Twitter and said: "Wedding is a private thing. However it goes without saying: if you invite Vladimir Putin to your wedding, you are not neutral anymore. From now on, Austria can't be a mediator in Ukraine. Period."
Ukraine's foreign minister, Pavlo Klimkin, also weighed in on Twitter, expressing his disappointment.
Gustav Gressel, a senior policy fellow at the European Council on Foreign Relations, told NBC News that Gressel was exploited as a "useful idiot" in order to prove that Russia is not isolated in Europe.
Meanwhile, Kremlin spokesperson Dmitry Peskov told Russian news agencies that Moscow rejected criticism regarding Putin's visit to the Austrian wedding.
The EU is at loggerheads with Russia over the annexation of Crimea, a move that saw many EU member states slap sanctions on Russia, as well as the poisoning of ex-Russian spy Sergei Skripal and his daughter on British soil, with the UK blaming Russia for the incident. Russia has repeatedly denied involvement. 
Following the nerve agent attack, Austria did not expel Russian diplomats, citing its neutral stance and the countries aim to be a "bridge-builder" between the East and West. Austria currently holds the Presidency of the EU Council.
Kneissl, who has no political party affiliations, was appointed as minister by the far-right Freedom Party (FPO). The party has a cooperation agreement with Putin's United Russia party.
The Russian president spent around an hour and 20 minutes at the wedding which was held at a vineyard in Gamlitz, Austria, before flying to meet German Chancellor, Angela Merkle later that afternoon.
This was the first time in more than five years that Merkle and Putin engaged in bilateral talks. The two leaders discussed several issues including the need to maintain a ceasefire in Ukraine and the Syrian conflict.
The two countries will be working closely to complete the Nord Stream 2 gas pipeline project, which will be able to transport gas along the Baltic seabed to Germany. This will make Germany a transport hub for Russian gas in Europe.