Pope writes letter to all his followers about sex abuse scandals
Comments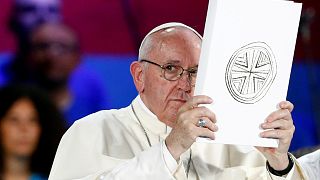 Pope Francis has written a letter to addressed to the world's one point two billion Catholics about the sex abuse scandals that have rocked their church.
Addressed to "the people of God," the letter said that no effort will be spared to prevent abuse and its covering up.
The pope also responded to a recent grand jury report in the U.S. state of Pennsylvania. He said that while most cases in the report "belong to the past," it was clear that abuse "was long ignored, kept quiet or silenced".
A Vatican official said it was the first time a pope had written to all of his followers - past letters on the scandal have been addressed to bishops and faithful in individual countries.
Pope Francis has acknowledged "with shame and repentance" the Catholic Church's failure to act over sexual abuse by clerics against minors going back decades, writing "we showed no care for the little ones; we abandoned them."
"I acknowledge once more the suffering endured by many minors due to sexual abuse, the abuse of power and the abuse of conscience perpetrated by a significant number of clerics and consecrated persons, he wrote.