No, there are not more pigs than people in Spain
Comments
By Rafael Cereceda and Cristina Abellan Matamoros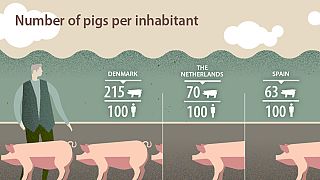 The claim is about as real as pigs flying. Spain, it turns out, does not have more pigs than people, as reported by British media. However, the number of slaughtered pigs was greater than the total Spanish population last year, according to a Spanish news website.
"The disproportionate growth of pig farming means that the number of pigs slaughtered now exceeds the country's total population: 50.7 million pigs were killed last year," reported Publico.
Spain's total population amounted to a bit more than 46 million people in 2017, according to the Spanish National Institute of Statistics.
The last census carried out by the ministry of agriculture said there were around 30 million living pigs in Spain in "the first trimester" of 2018 — which shows there are fewer pigs than people.
Spain's ministry of agriculture told Euronews that the census varies because it corresponds to the number of pigs at an "exact moment". The difference between the census and the number of slaughtered animals could be explained by the high fertility rate of this type of animal and the fact that many pigs are killed only days or weeks after they're born. So many pigs are not counted in the census but do feature in the total number of slaughtered animals.
So does this reveal an environmental problem with Spain's pig industry? El Publico believes so.
"The environmental consequences of the disproportionate growth of pig farming in Spain have gotten the government concerned. They are now working on a decree that would limit the emission of toxic gases and liquids [coming from the pig industry]," said the article.
The ministry of agriculture told Euronews they are helping farmers decrease the number of ammonia emissions and nitrates in the water with an improved treatment of animal waste, a better code of good practices and newer facilities.
How does Spain's pig industry compare to its European neighbours?
Spain is one of the countries with the most pigs in the European Union (with 30.1 million pigs) followed by Germany (27.6 million pigs). France, Denmark, the Netherlands, and Poland also have large pig populations, said Eurostat.
More pigs than people in Denmark
According to 2016 data, Denmark's the EU country with most pigs per person at 215 pigs per 100 inhabitants, followed by the Netherlands at 70 pigs per 100 inhabitants. Spain comes in third place with 63 pigs per 100 inhabitants.
Denmark is the only EU country where the pig population exceeds the human population.