Wish you were here: Damascus puts out tourism video as city is ranked one of world's worst
Comments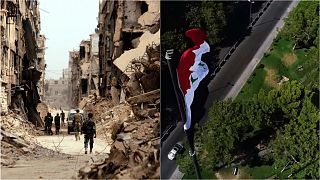 Tourism chiefs in Damascus released a glossy tourism video promoting the Syrian capital on the day it was ranked one of the worst cities in the world.
The Global Liveability Index 2018 rated the Syrian capital as the most undesirable of the 140 cities it surveyed.
It wrote: "Although few would argue that Damascus in Syria and Tripoli in Libya are likely to attract visitors at present, despite them registering recent improvements, their inclusion in the survey reflects cities that were deemed relatively stable before the 2011 Arab Spring."
The rankings, released on August 14, coincided with the publication of a new video on Damascus from Syria's Ministry of Tourism.
The promotional footage begins with lush scenes of the city and shows its mosques, churches, squares, concert halls and markets.
Its captions read: "From Damascus, the oldest and the most beautiful capital.
"From Damascus, the voice is raised with thousands of greetings for its people, visitors and lovers.
"With its civilisation and ruins, it shakes the dust of years of pain and announces a message of victory."
Damascus and its old city is reported to have avoided the worst of the war damage.
The majority of fighting between government forces and rebels has taken place in suburbs such as Eastern Ghouta — which has been "pounded to near-oblivion" — and Yarmouk, which "lies in ruins and where hardly a house is untouched by the conflict".