Europe briefing: 4 stories to know about today
Comments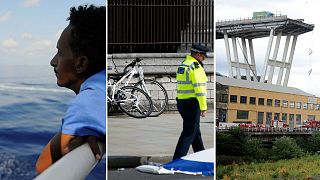 1. Italy bridge collapse
Rescuers continue to search for survivors after a bridge in Genoa collapsed, killing at least 37 people on Tuesday.
The cause is yet known and there have been calls by the government demanding the heads of the company operating the 50-year-old bridge to resign.
The deputy prime minister, Luigi Di Maio, said in a Facebook post on Wednesday: "Those responsible for the tragedy in Genoa have a name and a surname, and they're called Autostrade per l'Italia. For years it's been said that private management would be better than that of the state".
Autostrade per l'Italia, part of infrastructure group Atlantia said it had carried out regular, sophisticated checks on the structure before the disaster and that these had provided reassuring results.
Keep up to date with the latest here.
2. Suspect in Westminster car crash named
A man who was detained on suspicion of terrorism after the car crash outside the Houses of Parliament has been named as Salih Khater by government sources.
A European security source told Reuters the 29-year-old is a British citizen of Sudanese origin and was not known to security services before the incident. It added the motive for the suspected attack is not yet known.
Police believe a car was deliberately driven into pedestrians and cyclists injuring three people before crashing into a security barrier outside parliament during the rush hour on Tuesday.
Keep up to date here.
3. Turkey raises tariffs on US imports as row escalates
Turkey has increased some tariffs on some US imports such as passenger cars, alcohol, and tobacco.
Turkey's vice president Fuat Oktay said the move comes in response to deliberate US attacks on the Turkish economy.
The US said it had authorised higher tariffs on aluminum and steel imports from Turkey last week.
Tensions between the US and Turkey are at an all-time low over Ankara's imprisonment of a pastor and other diplomatic issues.
On Wednesday, Turkish media reported that a court in Izmir rejected the appeal for the release of the US pastor Andrew Brunson. A higher court will review the appeal while Brunson remains under house arrest.
For more on the story, see here.
4. Migrant rescue ship set to dock in Malta
The rescue migrant boat Aquarius is set to dock in Malta after a fresh stand-off between EU leaders.
Malta will not, however, take in any of the migrants on board- they will instead be distributed among France, Germany, Luxembourg, Portugal and Spain.
The NGO-operated ship rescued the asylum seekers on Friday but European countries had been at loggerheads over who should take them in.
The country's decision ends a deadlock which threatened to repeat a previous incident in June when the Aquarius was stranded for days after EU nations refused to open their ports.
Here's what happened on Wednesday morning: