Italy declares state of emergency over bridge collapse
Comments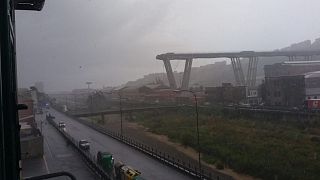 -
Copyright

Polizia di Stato/Twitter
Italian Prime Minister Giuseppe Conte declared a state of emergency on Wednesday covering the region around Genoa after a bridge collapse killed 38 people and severed the port city's main land corridor with southern France.
Police revised an earlier count of 39 victims on Thursday
Conte, speaking at a news conference in Genoa, said he made the declaration after a request from regional authorities.
He also took aim at toll-road operator Autostrade, a unit of Milan-listed Atlantia group, which operated the bridge as part of a stretch of the A10 motorway it manages.
Conte said the firm had been responsible for ensuring safety on the bridge and the government would not await the outcome of a current criminal investigation into the disaster before taking action.
Earlier, the transport minister said the firm's A10 motorway concession should be revoked and it be hit with heavy fines.
Deputy Prime Minister and Interior Minister Matteo Salvini said the private sector manager of the bridge had made "billions" from tolls but "did not spend the money they were supposed to" and should have its concession revoked.
"Imposing the highest penalties possible and making sure that those responsible for the dead and the injured pay up for any damages and crimes is the very least," he said.
Italy's transport minister said they had begun a process to strip Autostrade of its concession and demanded that top company managers resign.
"The top management of Autostrade per l'Italia must step down first of all," Toninelli said in a Facebook post.
Toninelli also said the government would check the structure of ageing bridges across the country and would start remedial work if required.
Rescuers in Genoa continued their search for any survivors. At least four people were found alive from vehicles under the bridge, reported Italian news agency ANSA.
It remains unknown what caused the Morandi Bridge to fall.
Prosecutors have opened an investigation but have not identified any targets.
The collapse of the bridge, which connected Genoa with other northern cities and neighbouring France has brought attention to Italy's aging infrastructure — particularly concrete bridges built in the 1950s and 1960s.
A witness told Sky Italia television he saw "eight or nine" vehicles on the bridge when it fell in what he described as an "apocalyptic scene".
At least 30 cars and three heavy vehicles were on the 80-metre section of the bridge that collapsed, according to Civil Protection authorities.
"It's not acceptable that such an important bridge was not built to avoid this kind of collapse," said DeputyTransport Minister Edoardo Rix on SkyNews24, speaking from Genoa.
The Morandi Bridge was built over the northern Italian port city of Genoa in the 1960s. The motorway bridge underwent extensive repairs in the 1980s, 1990s and most recently in 2016. Work on its foundations was being carried out at the time of its collapse.
Expert had warned the bridge needed to be rebuilt
Engineering professor, Antonio Brencich, warned in 2016 that the bridge needed to be completely rebuilt as its structure had deteriorated too rapidly.
However, the director of Autostrade del Tronco Genovese, Stefano Marigliani, who is responsible for maintenance of the region's highways, told Radio Capital that the disaster could not have been foreseen:
"There were no signs of danger. The bridge is subject to frequent checks, it was a constantly-monitored infrastructure. The works in progress were just ordinary maintenance."
Before and After
Location of the collapse
Messages of solidarity
Messages of support were widely shared online with politicians and citizens tweeting messages of their sympathy to those involved in the accident and the Italian people.
President of the European Commission Jean Claude Juncker expressed his "deepest sympathy and sincere condolences to the families and friends of those who have died" and his "best wishes of strength and courage go to those involved in the rescue operations".
French President Emmanuel Macron tweeted his condolonces, adding: "France is close to Italy in this tragedy and is ready to provide all necessary support."
"The UK stands alongside our Italian friends and allies following this tragic event," said British Prime Minister Theresa May.