Watch: Swiss mountaineer breaks speed record at Mont Blanc
Comments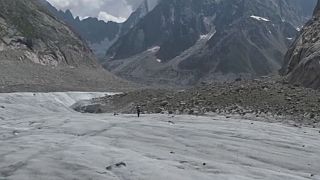 Swiss mountaineer, Dani Arnold, has set a new speed record by climbing the Grandes Jorasses North Face in France.
The 34-year old solo climbed the 4208-metre rock face in 2 hours and 4 minutes with no safety equipment.
The Cassin route is known to be particularly dangerous, and only accessible in times where there is no ice, and when conditions are not dry. Rockfalls are more likely to transpire during dry weather.
The Grandes Jorasses North Face is one of the most famous peaks in the Alpes. It straddles the French-Italian border and forms part of the Mont Blanc massif.
This is the second speed record set by the extreme sportsman, who also holds the record for the fastest ascent of the Matterhorn.