Beach, mountains or fort — where did EU leaders holiday in 2018?
Comments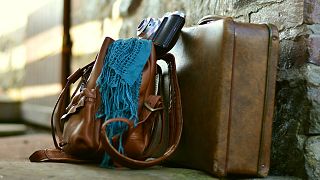 As many Europeans kicked back on their summer holidays, politicians too were in need of time to unwind and left their offices for a few days to recuperate from the stresses of the job.
Where did heads of state spend their time off and were their trips plain sailing or marred with problems?
Pedro Sanchez — secret destination
Spain's new prime minister Pedro Sanchez kept his 2018 summer holiday destination under wraps.
Sanchez owns an apartment in Mojacar in southeast Spain but local media speculated that since becoming prime minister the site does not have the security features necessary to house the leader.
Traditionally, Spanish prime ministers that came before him went to the "Las Marismillas" palace in Spain's Doñana natural park.
The Spanish leader came under fire from rivals in July for using the prime ministerial plane to fly himself 423 km to see The Killers rock band perform.
Opposition parties questioned Sanchez's use of the Falcon 900 to travel between Castellon and Madrid where the Festival Internacional de Benicàssim was held.
Angela Merkel — no holiday at all?
After a tumulous year that saw the stability of her coalition threatened in a row with Bavarian conservatives over immigration, reports suggested German Chancellor Angela Merkel had cancelled her annual holiday in the Italian Alps for the first time in 10 years.
Merkel and her husband go walking in the region of South Tyrol every year, but this year Joachim Sauer was accompanied by his son from a previous marriage, according to the Neue Südtiroler Tageszeitung newspaper.
German tabloid Bild ran the headline: "Where is the chancellor hiding?
"At a summer residence or with her 90-year-old mother in Uckermark? Marital crisis? Clinic? Secret mission?"
When asked about her holiday plans in July, Merkel told reporters that she was looking forward to a rest but that the details were private.
Her office refused to comment. "As a matter of principle we give no information on the chancellor's private appointments," a spokesperson said.
Theresa May — cuts short Italian break
Merkel wasn't the only European leader that appeared to cut short her break — British Prime Minister Theresa May also put an end to her holiday in Italy to meet French President Emmanuel Macron.
May was hoping to soften the French leader's stance on her government's Brexit proposal and get him on board with her Chequers deal.
The British head of government became the first EU leader to visit Macron's summer retreat in the south of France and was pictured smiling with the French President and his wife.
Emmanuel Macron — drone sighting off the Mediterranean coast
The French president and his wife Brigitte headed to the Mediterranean island where Fort de Bregançon is located — the official retreat of the president of France since 1968.
However, the visit wasn't without any setbacks as French authorities opened an investigation into the flight of a drone over the residence, less than a day after Venezuelan President Nicolas Maduro avoided an alleged assassination attempted involving a drone.
The French government said in a statement that "the whole of the President's holiday programme is private and unofficial," which included all outings during his two-week summer break.
Italian leaders... stayed in Italy
The Italian politicians filling top governmental roles all opted to stay in the country.
President Sergio Mattarella chose to spend a few days in Sardinia for the first time during his time in office, previously going to the Dolomites mountain range.
Both Prime Minister Giuseppe Conte and President of the Senate Maria Elisabetta Casellati were also thought to be holidaying in Italy.
Deputy Prime Minister and Interior Minister Matteo Salvini spent a week at Milano Marittima, on the east coast and was later pictured on a boat on Italy's Adriatic Sea with his partner Elisa Isoardi.
One location the leader of the far-right League won't be venturing this summer is the Spanish island of Mallorca, which declared him a persona non grata as a result of his stance on immigrants and the Roma community.
Salvini responded on Facebook: "Not welcome in Mallorca? Who cares, I take my holidays in Italy."