Aquarius: What options are left for the stranded migrant ship?
Comments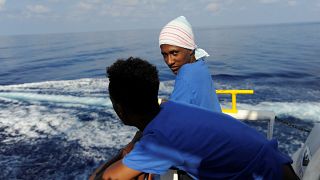 The rescue boat Aquarius, which was denied entry to Italy and Malta in June, is once again looking for a safe place to dock and is causing a fresh stand-off between EU leaders.
Last time, a safe haven was opened in Valencia, but Spain has said this time it will not accept the ship, which is carrying 141 migrants, as it says "it is not the safest port" for the vessel.
There may be some respite from France, as local leaders on the island of Corsica have offered to welcome the migrants as has the port of Sete on the mainland.
"If the closest ports are closed, then others that are closer need to open," the head of the Corsican local assembly, Jean-Guy Talamoni, told France's BFM channel on Tuesday.
"We left Italy alone to deal with the problem, but it's a problem for the whole of Europe," Talamoni added.
The Aquarius, run by Franco-German charity SOS Mediterranee and Doctors without Borders (MSF), has been sailing since Friday in international waters between Malta and Italy.
The migrants onboard were travelling from Libya to Italy in two wooden boats that capsized.
No Volunteers
On Monday, the Italian Minister of the Interior, Matteo Salvini, said the Aquarius "cannot go where it wants, not Italy". The leader of the far-right League party suggested that the Aquarius travels to France, Great Britain, Germany or Malta instead.
However, Malta has also stated that it will not welcome the ship to its island.
Italian Minister of Transport Danilo Toninelli pushed responsibility onto the UK and said that since Aquarius sails under the flag of Gibraltar, it is up to the British territory to assume their responsibilities.
The Gibralter government in turn announced that he Aquarius will no longer be able to sail under its flag after August 20.
Meanwhile, French public opinion was against accepting the Aquarius ship in June and the right-wing Republicans party and the far-right National Rally both argued against the boat docking in France and said it should dock in Tunisia.