Perseids meteor shower lights up Bosnian sky
Comments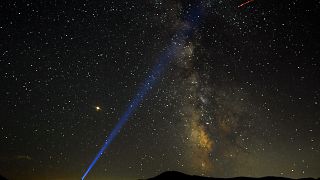 A meteor shower lit up the skies above eastern Bosnia on Saturday (August 11) night, giving star gazers a rare opportunity to see a display of shooting stars with the naked eye.
An international group of star gazers watched the light show at the Sand Pyramids - an area of naturally occurring sand columns - near the town of Foca.
They said they had been following meteor showers for several years and that everyone should enjoy a chance to see the natural phenomenon.
The so-called Perseids meteor shower returns to the skies every August, and is best viewed in the northern hemisphere in isolated areas where there is little light pollution.
They arise when the Earth passes through the debris of Comet 109P/ Swift- Tuttle, which was discovered in 1862.
Meteors are parts of rock and dust that hit the Earth's atmosphere, heat up and glow. Most vaporise as they descend, but some explode.