Idalys Ortiz reigns supreme at the Budapest Grand Prix
Comments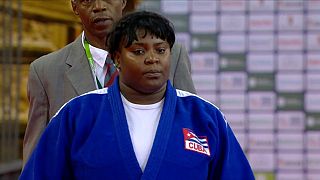 As the sun set on Judo in Budapest on day three of the Grand Prix, there was a final chance for local fans to cheer another home hero.
Krisztian Toth, our man of the day, faced Ushangi Margiani of Georgia in the final of the under 90-kilogram division.
It was a tense match which was decided when Toth dropped underneath his opponent to score a waza-ari.
Once again there were incredible scenes inside the Papp László Arena as the crowd celebrated another medal in their Grand Prix to leave them second in a medal table, which saw 22 countries from four continents represented.
A jubilant Toth said: "The crowd was unbelievable. I really like to fight at home because here there are a lot of people who love judo and I was happy that a lot of people were here. So I would like to say thank you for the support."
Our woman of the day was former World and Olympic Champion Idalys Ortiz of Cuba who took gold in the over 78-kilogram division.
In the final, she scored a superb Waza-ari against Maryna Slutskaya.
It was her first win in two years, a welcome return to form for the heroine of Cuban Judo.
"I'm one of the longest standing members of our judo team, all my teammates always want the best for me and they look at me as the example to follow," said Ortez.
Aaron Wolf of Japan was back in action for the first time since becoming World Champion last year and he was on brilliant form.
In the final he encountered Germany's Karl Richard Frey. After the match went into golden score Wolf struck, scoring another fantastic ippon to pick up right where he left off, on top of the podium in Budapest.
The 2015 World Champion Umeki Mami defeated her compatriot Takayama Rika by ippon in the final of the under 78-kilogram final.
The IJF President Mr. Marius Vizer was on hand to award the medals in the over 100-kilogram division.
Donning gold was Japan's Kageura Kokoro who defeated Austria's Stephan Hegyi by a waza-ari in golden score.
But the star of the category was bronze winner Adam Okruashvili of Georgia, who produced his best judo in recent years with an exquisite ippon against Russia's Ruslan Shakhbazov.
Our move of the day came courtesy of China's Yanan Jiang, who took over 78-kilogram bronze with a sublime combination attack against Germany's Carolin Weiss.