Watch: Stolen passenger plane's erratic flying scares onlookers
Comments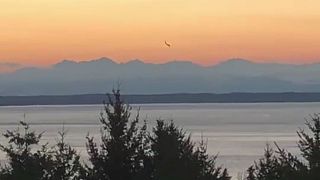 Copyright

Credit: Skylar Jacobson
This is the moment a passenger plane stolen from a US airport caused panic among onlookers as it was flown erratically before crashing.
The footage, posted to social media, appears to show the aircraft dive and fly low over water near Ketron Island, Washington.
It later crashed on the island and the pilot — the only person on board — is not believed to have survived.
The man, an airline employee, stole the 76-seat Horizon Air plane from Seattle-Tacoma International Airport on Friday.
The 29-year-old, who has not been named, was suicidal and appeared to have acted alone, according to the Pierce County Sheriff's Department.