Seattle stolen plane: Suspect's family mourn "loving son"
Comments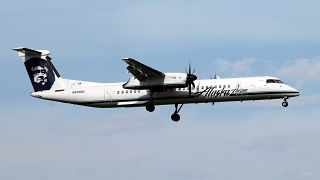 Richard Russell spent his final moments flying high above Seattle, performing aerial stunts. 
"Got a few screws loose, I guess. Never really knew it until now."

Suspect in Seattle stolen plane incident
Known as 'Beebo' to his family, Russell stole a turboprop plane from the maintenance area where he worked at Seattle Tacoma airport in the United States.
The unauthorized joy ride sparked a security scare that saw military jets scrambled to incept him.
Russell spoke to air traffic control during the flight, describing himself as "a broken guy":
"Got a few screws loose, I guess. Never really knew it until now," Russell can be heard to say on an audio recording of the conversation.
Minutes later, Russell crashed into an island on the Puget Sound. He's presumed dead.
The local sheriff's department said Russell was "suicidal" and his actions were not believed to be connected to terrorism.
Mike Matthews, a spokesperson for Russell's family, said they were devastated by the loss: 
"We are stunned and heartbroken. It may seem difficult for those watching at home to believe but Beebo was a warm, compassionate man," Matthews told reporters on Saturday (August 11). "A childhood friend remarked that Beebo was loved by everyone because he was kind and gentle to each person he met."
Twenty-nine-year-old Russell, who did not have a pilot's license, worked for Horizon Airlines, a subsidiary of Alaska Airlines, helping baggage handlers. He underwent criminal background checks and was authorised to be in the area where he stole the plane.
A day after the dramatic events in Seattle, the airport appeared to be back to normal.
But Russell's actions have raised questions about US airport security, even as investigators try to understand how and why he did it.